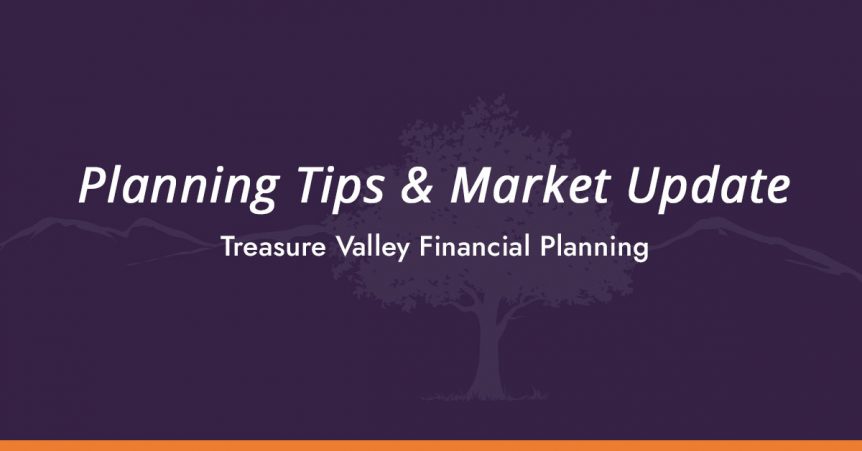 Impromptu Market Update 8-7-2019
Dear TVFP Client,
We wanted to provide you with our updated information regarding the ongoing trade dispute in China, which has caused some recent market volatility.
History
Starting in mid-2017, President Trump embarked on renegotiating most of the major trade agreements which the U.S. is part of. This has led to considerable bouts of market volatility (in separate instances) as news related to leaving the TPP, renegotiating NAFTA, the levying of tariffs steel and aluminum, and major tariff placement on Chinese exports have rippled through. Despite all of these, equity markets have set new all-time high's based on the underlying strength of the economy and corporate earnings.
The U.S. would like a more equitable trading relationship with China, which includes a smaller trade deficit and protection for intellectual property. The tariffs on effectively all Chinese exports to the U.S. are a result of the two governments' inability to come to terms on these issues.
Today
On 7/30, the most recent round of trade talks ended without meaningful progress.
On 8/1, President Trump announced a new round of tariff's on China that effectively mean all Chinese goods exported to the U.S. have a tariff on them.
On 8/4, China responded by halting the purchase of U.S. farms goods by state-run businesses and devaluing the Yuan. By devaluing the Yuan below the 7:1 ratio of Yuan to Dollar (see chart), China has effectively turned its currency into a weapon.
The 7:1 ratio had been considered "sacred." Currency traders across the world relied on that barrier as a minimum fixed-peg that has been used for more than a decade.
To date, the U.S. has tariffs on approximately $250b of Chinese goods, while China has tariffs on approximately $110b of U.S. goods. Despite this gap in tariff levels, the most recent data from the Worldbank shows China with a weighted mean tariff across all global products of 3.8, while the U.S. is less than half at 1.7.
Top 10 economies by tariff level:
Brazil 8.6
India 5.8
China 3.8
Japan 2.5
Germany 1.8
U.K. 1.8
France 1.8
Italy 1.8
U.S. 1.7
Canada 1.5
The result of such a massive shock to currency markets has bled into the equity markets, causing the worst single-day loss of 2019 (-2.98% on the S&P 500). Markets have fallen approximately -6% off the all-time high since the U.S. dropped interest rates 0.25% at the end of July.
Implications
The latest moves by both the U.S. and China are part of the "worst case scenario" that has been discussed over the past year.
From the U.S. view:
President Trump is now "pot committed." He will likely double-down on the new tariffs (moving from 10% to 25%) and may restrict domestic companies from purchasing goods from China (or specific Chinese companies like Huawei) if a substitute is available anywhere else in the world. This would be a massive escalation that would disrupt U.S. supply chains and apply maximum pressure on the Chinese.
The Trump administration feels China is on the brink of economic collapse. We believe U.S. officials considered the likelihood that China would react powerfully to the new round of tariff's, so we expect a very rapid, pre-planned response from President Trump.
We expect the Fed to act aggressively to offset some of the economic damage. This is an incentive to President Trump because he is unlikely to be re-elected if the economy and markets are faltering going into the election.From China's view
China has a systematic advantage of the U.S. due to the nature of their government. They can subsidize industries, enact lower taxes, provide stimulus, and manage their currency much more quickly than a free market economy can. China believes this will give them the tools to outlast President Trump until the election cycle.
The goal of the Chinese response is to shake the ground under the Trump administration. However, by doing so it also inflicts pain onto itself by inviting higher food costs, the potential for rapid inflation, currency adjustments by other countries that compete with China, and most importantly provided confirmation to the world that China will manipulate its currency for its own benefit.
China is clearly on the defensive and is reacting to the Trump administration. The tariffs aren't going to be lifted until a deal is made with the U.S. So, China has the choice to either live with the current outcomes of the trade conflict, negotiate a deal or survive long enough for President Trump to leave office in 2020 or 2024 and hope the next President has a different perspective.Bottom line: Clients Only

  Please let us know if you have any questions or concerns. 
Kind regards,
Your TVFP Team
Treasure Valley Financial Planning is a dba of Clear Creek Financial Management, LLC.  Services offered through Clear Creek Financial Management, LLC, a Registered Investment Adviser. This message and any attachments contain information which may be confidential and/or privileged and is intended for use only by the addressee(s) named on this transmission. If you are not the intended recipient, or the employee or agent responsible for delivering the message to the intended recipient, you are notified that any review, copying, distribution or use of this transmission is strictly prohibited. If you have received this transmission in error, please (i) notify the sender immediately by e-mail or by telephone and (ii) destroy all copies of this message. If you do not wish to receive marketing emails from this sender, please send an email to[email protected]. Please note that trading instructions through email, fax or voicemail will not be taken. Your identity and timely retrieval of instructions cannot be guaranteed.